Ooty is one of the most beautiful hill stations that you will ever come across in India. There are a few parts of Ooty that have commercialized now but there are still a few parts that are still untouched and so serene. If you are looking for a short getaway Ooty is a perfect destination for you; to escape from the city life for a couple of days and dwell into nature and breathe the pure air (which most of us have forgotten while staying in cities). This place is all about its wide spread of different green shades of tea plantations, lakes, and mountains. Go here during winters and you sure cannot do without your jackets. So let's read on to find out more about this beautiful place.
Time to Indulge in Some Touristy Spots
Ooty Lake
Image Credit: Ooty Tourism
This lake is one that tops the list of the tourist spots. So if you are a first timer in Ooty, you should head straight to the Ooty Lake and have some fun boating there (You can choose the kind of ride you want). Hill station and chilly breeze this makes you feel like munching on something hot and having a corn (Bhutta as it's famously called) is the best thing to do then. If you are a movie buff, you would have already seen this lake in a lot of movies. The timing of the boat house is 0830 hours to 1730 hours. The entry cost to the Lake will hardly cost you anything and the cost for your boat ride would depend on the ride you choose. You may want to head for an awesome horse ride which is just adjacent to this lake.
Botanical Garden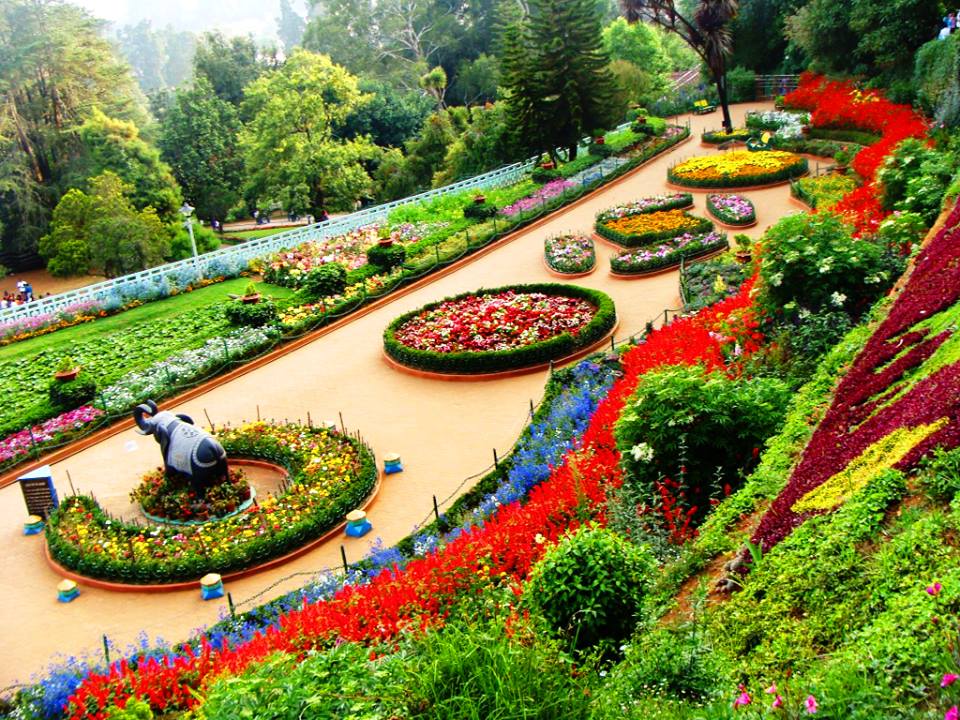 If you are a flora lover, then this is a place you so shouldn't miss. The Botanical Garden is Ooty is home for a variety of beautiful and exotic trees, plants and flowers. You can probably even spot the rarest colours in this Garden. If you are passionate about photography, then this is a place just for you. You might be here for hours and you will love every bit of your time here. So don't forget to carry all the types of lenses to get that postcard shot. The timing of this Garden is from 0700 hours to 1830 hours.  Also, there is a flower show that is pretty famous that happens here every year in the month of May.
Doddabetta Peak
Did you ever want to go one of the highest peaks? You can cross that off your list after visiting Doddabetta; as this peak is not only one of the highest peak but THE HIGHEST PEAK in Tamil Nadu. This peak is about 10 kilometres from Ooty City Centre. Once you reach the place, you will have to climb a few stairs and walk a little trail to head to the peak. There is also a telescope room there for you to get the view of the entire place from up above. This probably should be one of the 'Lets click a picture' spot for you. The timing of this Garden is from 0830 hours to 1830 hours.  
Time to Indulge in Some Touristy yet Not So Crowded Spots
Emerald Lake
The Ooty Lake is a usual spot where all the tourists visit. But if you want to do touristy things yet where there are not too many tourists then Emerald Lake is where you need to head to. This lake is around 20 kilometres from Ooty City Centre. As its name stands, Emerald Lake does more than just justice to its name as it sure is one Gem of a lake. You can get a scenic frame because of its blue water. Up for knowledge gaining? Well, this lake is one major supplier to the Kundah Hydro Power station.
Avalanche Lake
Avalanche Lake is yet another lake that is not spoilt in Ooty. This lake is about 5 kilometres from Emerald Lake and about 23 kilometres from Ooty City Centre. As this is close to Emerald Lake, I'm sure by now you should have figured that Avalanche also is one of the major contributors to the Kundah Hydro Power station. This is also an awesome escape from the hustle bustle of the town for some quiet moments to feel the nature again with its blue water and beautiful pine trees around.
Pykara Falls
Pykara Falls is about 20 kilometres from Ooty City Centre and it is worth the travel. You cannot drive down till the falls, so be prepared to do some walking which might feel like hiking, to reach and witness this stunning waterfall. Also, you will have to make sure you plan to go anytime between 0830 Hours to 1700 Hours as the entry is restricted after that. If you are up for visiting another place after all the amazing fun you have had at the falls, you can head to Pykara Lake. There is boating activity that takes place here so you can totally skip boating in Boat House at Ooty Lake and enjoy the boating experience in the calmness of this place.
Let's indulge in some shopping, maybe?
After enjoying all of the above and if you want to do something that the localities do, then you should go to the farmers (vegetable) market as they as straight from the farms and I can't even begin to tell you how amazingly fresh they are. Ooty carrots are pretty famous and are available in most corners, grab a bunch and savour the taste of the freshness. Another thing Ooty is super famous for is essential oils and especially Eucalyptus oil. You should totally buy a few bottles and stock up if going to a hill station is not something you do often.  What could be the last thing? The one thing that wherever you turn you will find it in Ooty – Yes, I'm talking about Tea. Ooty is famous for the different kinds of Tea and one should sure buy this from here. This acts as a good gifting option for all your Tea Lover friends and family.
But how do we get here?
People usually prefer driving down or hiring a cab to Ooty but if you want to experience a train ride to Ooty, there is a train which is famously called the Toy Train that starts from Mettupalayam to Ooty. Also, the nearest airport to Ooty is Coimbatore which is about 90 kilometres from Ooty. If you are flying down from your city, fly down to Coimbatore and hire a cab and head directly to Ooty.
So the next time you make a trip to Ooty, visit all of the places mentioned above. Stay shorter in the touristy and crowded spots and dwell in the beauty of the non-crowded ones. And hey!  Don't forget to take a picture perfect-shot and then forget your camera and just soak in the beauty of that place.
Hold on, are we forgetting something? Oh yes, we are. You are sure not going for a one-day vacation to Ooty and the numerous options it offers to stay can be just overwhelming. You are just at the right place for that, Private Holidays to rescue and your stay is sorted.
As always, if you liked what you just read then please do share this by clicking the tiny little icon below.